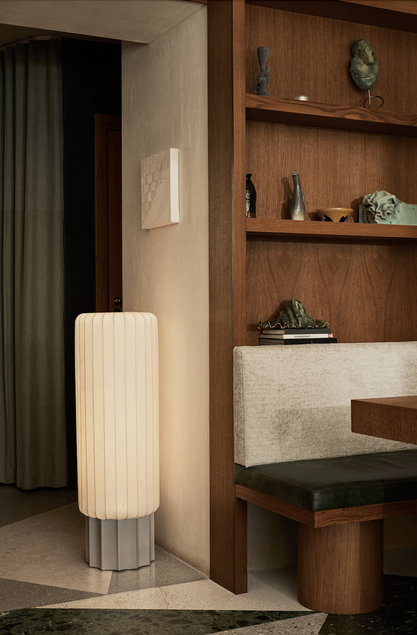 Pholc presents an exciting new addition to its product line. The latest addition to the catalogue, the Meter collection, exudes a bold and imposing architectural influence while simultaneously boasting intricate handmade details. The dynamic and thought-provoking design is the result of a close collaboration between Pholc and Danish design duo Maria Bruun and Anne Dorthe Vester. 
Maria Bruun describes one of the initial ideas behind the design:" We wanted to create a new interpretation of the classic rice paper lamp. A design sharing its lightness and softness but with a solid sculptural base. We explored contrasting materials to create a unique presence and sculptural reference." 
Anne Dorthe Vester further explains the Meter concept:" In our shared practice, the emphasis is on the inherent aesthetics of materials in relation to form and detail. In the case of the Meter family, this is expressed in the heavy, industrially produced aluminium base contrasting the light, translucent, handmade cocoon lampshade. To make the light spread softly and have the lamps claim their space in a room, we have focused on and enhanced their dimensions." 
The lamp comes in two sizes: One Meter and Half Meter. The taller variant is ideal as a floor lamp, whereas the smaller version can be used as either a floor lamp or a table lamp. 
The Meter collection will be in stock in September/October 2023.