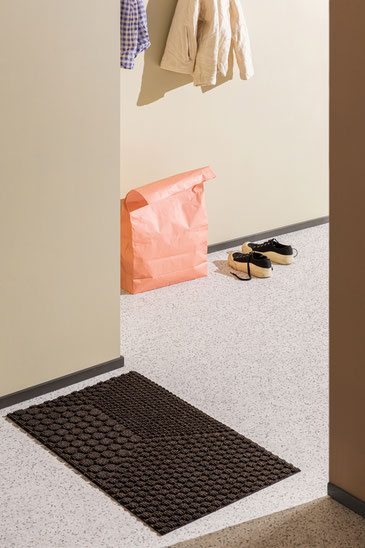 The concept behind the Hex mat was to create the opportunity for personal style expression in small living spaces through smart solutions and always choosing quality over quantity.


The Hex collection includes two rectangular sizes, and two color
choices - Hex Desert (sand-colored, beige) and Hex Soil (earth-colored, dark brown). The design is composed of a raised hexagon and circle pattern that acts as effective dirt and dust catchers, while the non-slip, nitrile rubber backing ensures that the mats lies firmly on the floor.

"The Hex design hints at a larger pattern that we only see a portion of. Repetition and order give a calm expression that evokes associations with architecture and industry," says Tornøe.
Like all Heymat products, Hex is of industrial quality and durability, with excellent absorbency, while the hood in PET consists of 50% recycled plastic. In Hex, sustainability, function, and timeless design are merged in one mat.